We live in a gadget-driven world. Everyone is fascinated with gadgets, including kids. It has been part of our daily lives and has become a necessity for most people. Despite its usefulness and advancement, it also has its downsides. That's why some parents would restrict their children's access to gadgets.
But what if you can turn children's fascination with gadgets into tremendous opportunities for them to learn while enjoying? Nowadays, online learning websites offer children some of the most exciting learning experiences. Say no more fear for your kids of just playing on their gadgets; they can now learn something new in a safe online environment!
Here's a list of the best websites your kids can enjoy learning from!
Starfall
Courtesy of Starfall
Increase the skills of your kid in reading through Starfall! It is a free reading website to help children improve their alphabet phonics, recognition, and spelling. This reading website provides resources to help kids of all ages develop and enhance their reading skills. Several reading resources are also supplied to meet your child's needs!
SplashLearn
Courtesy of SplashLearn
Make your kid love Math and ELA through SplashLearn! It is one of the best learning websites for kids that focuses on improving math and ELA skills. It aims to foster academic success via online tutoring and self-learning app courses and boosts confidence in 80% of learners in 4 weeks.
PEEP and the Big Wide World
Courtesy of PEEP and the Big Wide World fandom
Keep your kids learning in different areas! PEEP and the Big Wide World is an enjoyable platform for children aged three to five. The site provides lots of children's activities and educational information for parents. There are coloring sheets and games, and the site offers offline activities for parents and children.
Sesame Street
Courtesy of Sesame Street
Your child will undoubtedly enjoy learning with Sesame Street! Everything about Sesame Street's internet home will appeal to younger children. They may view hundreds of video segments from the program and play activities to learn the alphabet, animal noises, rhymes, colors, and more.
Scholastic
Courtesy of Scholastic Bookflix
Give your child a unique experience of learning! Scholastic is a one-of-a-kind educational website for children. This site, from the makers of the instructional publications seen in schools, provides grade-level exercises. Learning activities for children ranging from pre-K through high school are available.
Epic!
Courtesy of Epic
Here's an epic learning experience for your kid! It is a digital reading platform that provides various publications, including nonfiction, fiction, and other books. Teachers may use this website to track their students' development and reading abilities and verify that they read the required content. Epic! also includes almost 40,000 novels for children aged 6 to 12.
PBS Reading Games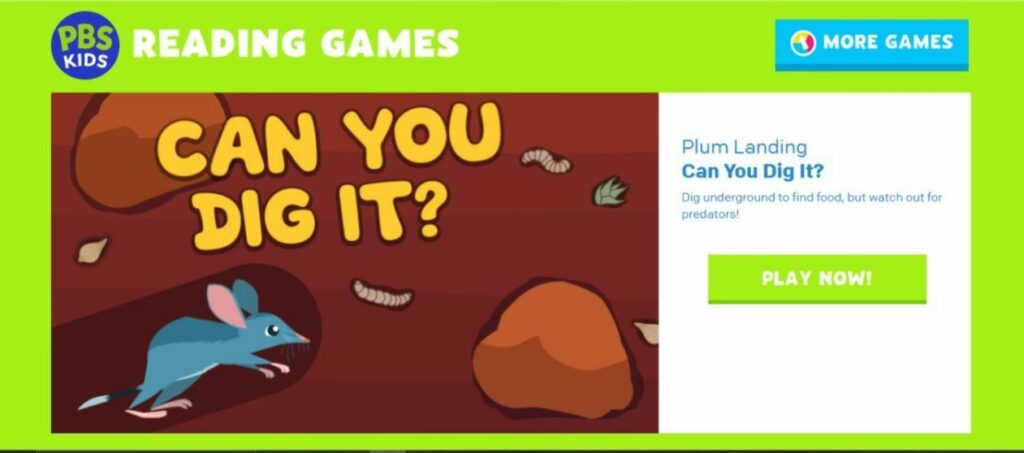 Courtesy of PBS Kids
Make their learning experience on reading extra special and fun! PBS Reading Games is a free reading website for kids with interactive movies, games, and other reading tools. It features over 70 reading-themed activities to help with phonics and comprehension.
PBS also provides downloadable books and activities for use in the classroom. In addition, you will get various reading resources, including poetry, vocabulary, rhymes, and so on.
TIME for Kids
Courtesy of TIME for Kids
Update your kid with the latest news and happenings! TIMEforKids.com, from the producers of TIME magazine, is packed with intriguing stories, photographs, and videos covering politics, the environment, entertainment, sports, health, and more. TIME for Kids isn't as interactive as most other sites, but it covers current events in a kid-friendly manner.
National Geographic Kids
Courtesy of Nat Geo Kids
Train them young in discovering factual information! National Geographic is recognized for providing accurate information, and its website for children is no exception. This website is fantastic since it allows for instruction in the game, video, and picture formats.
Children of all ages appreciate the brief textual lessons that accompany the graphics, and even the quizzes on the site are meant to captivate brains with short attention spans.
Chrome Music Lab
Courtesy of Chrome Music Lab
Cultivate the musician in your kid's heart! This website is all about music. Making them, practicing them, composing songs, and other activities. This program is unusual because it encourages youngsters to move, build, rehearse patterns, compose music, and even incorporate math and science.
Frequently Asked Questions on Best Website for Kids
What are the best websites for kids?
While there are hundreds of children's websites, not all provide high-quality tools and suitable material. Parents and teachers must rely on reliable sources and demonstrate their commitment to providing their children with the finest education possible. The best websites for kids are meant to assist children, parents, and instructors in locating the best educational materials.
How can websites be helpful for my kid?
To assist teachers and parents, several free instructional reading websites for kids are now accessible. Furthermore, exposing your kids to reading material outside the regular curriculum helps them acquire a taste for diverse languages, literature, arts, information, and abilities.
Does this mean I can allow kids on their gadgets all day?
The short answer is no. Although there are different websites or platforms online that can help your kid enjoy learning, there should still be limitations. With your guidance, gadgets can still be fun and helpful. But make sure to limit things; gadgets are still gadgets and can still harm if not used properly.
Conclusion
Useful websites for kids must be fascinating for children, as well as safe and informative for parents to enjoy them. It should be run to stimulate a creative and enjoyable learning environment for children.
Since plenty of websites are available, we hope this list has helped you find the best one for your kid! Choose the best one to help your kid grow and enjoy!