Disney movies never get old—no matter your age, these heartwarming films always seem to possess a certain magic. With colorful animations, beautifully composed songs, and stories that make you laugh, cry, and fondly sigh, it's no wonder that Disney still remains one of the most popular mass media companies and has become a household name.
If you're planning a movie night at home with your family, however, deciding which film to watch can be challenging. Disney's catalog is massive, and you know there's something for everyone. So, where do you begin?
In this article, we've compiled a list of the best Disney movies you can watch with your family.
Some of the Best Disney Movies You'll Love
Whether you're looking for the classics or more recent Disney films, you might discover something you'll love.
Snow White and the Seven Dwarfs (1937)
Let's start with one of Disney's most memorable classics. Snow White and the Seven Dwarfs is the company's first animated feature, but it still holds up well even with today's mind-boggling CGI and digital animation.
It's a story most of us are familiar with: a beautiful princess banished by her wicked stepmother and meeting seven dwarves with unique personalities. With magic, poisoned apples, and true love's kiss, the film is truly whimsical, thrilling, and timeless.
Encanto (2021)
Encanto is one of Disney's most recent releases, and it has already racked up numerous awards, including the 2022 Oscar for Best Animated Feature Film. And when you watch the film, you'll immediately see why.
Set in Colombia, this beautiful film features vivid colors, catchy music, and tales of family, duty, tradition, and individuality. What's not to love?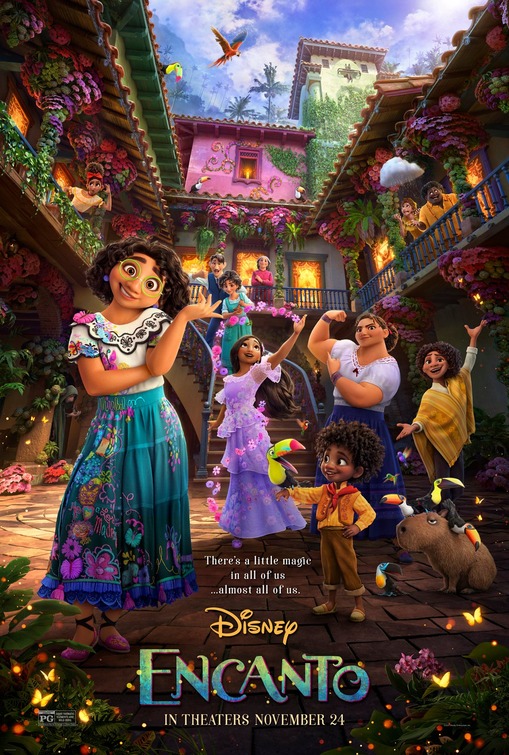 Photo by Walt Disney Studios Motion Pictures
Toy Story (1995)
Toy Story always has a way of tugging on people's heartstrings. The story focuses on the life of Andy's toys—mainly his old favorite, Woody, and his flashy new toy, Buzz Lightyear. With the toys having a bit of a rivalry for Andy's attention, we see lessons about making new friends and believing in yourself. The sequels are also beautifully made!
Lilo & Stitch (2002)
This is a classic story about a girl and her dog… or is it? When Lilo, a little Hawaiian girl, longed for a friend, she met an extraterrestrial being that she mistook for a puppy. Together, they faced many challenges and learned the meaning of ohana or family. It's wild, wacky, and full of thrilling adventures all around!
The Incredibles (2004)
This isn't your regular superhero story—it's about a family of superheroes who need to keep a low profile because the government has outlawed superpowers. However, Mr. and Mrs. Incredible can't help but miss fighting crime. With a mysterious supervillain on the rise, how will they stay hidden while saving the world? This exciting movie is a stellar family film indeed.
The Little Mermaid (1989)
Another classic tale, The Little Mermaid follows the story of Ariel, a young mermaid who's fascinated with humans and dreams of marrying a handsome human prince. She eventually signs a contract with a magical sea witch, Ursula, and gains her legs—but at what cost?
And, of course, who could forget the songs? Part of Your World, Under the Sea, and Kiss the Girl are some of the most popular Disney tunes that'll indeed play a lot in your head after watching!
Photo by Walt Disney Pictures, Walt Disney Feature Animation and Silver Screen Partners IV
The Lion King (1994)
With captivating songs, cute animals, and a thrilling storyline, The Lion King is one of the best Disney movies you have to watch. The story follows a young lion, Simba, who would have inherited his father's throne until tragedy struck. Its animation is top-tier and really highlights Disney's meticulously perfected hand-drawn style. Although the 2019 reboot has garnered mixed reviews, this animated film has received widespread critical acclaim.
Cinderella (1950)
Disney isn't short of fairy tales involving princesses in tricky situations. Cinderella is an enchanting film filled with magic and wonder. It features the titular character, her evil stepmother and stepsisters, a handsome prince, and Cinderella's very own fairy godmother. The film was nominated for the 1950 Oscar not just once but thrice!
Inside Out (2015)
This is one of Disney's most creative premises—it dives into the mind of a young girl named Riley and her internal struggles. The movie showcases her emotions personified: Joy, Sadness, Anger, Fear, and Disgust. It captures how these emotions help her interact with the world and how they influence her behavior and memories. It's a beautiful exploration of the human mind, with vivid colors and lovable characters to boot.
Coco (2017)
Coco is another movie that's sure to touch your heart. It's a story about a little kid who attempts to reconnect with his ancestors. He meets some family members in the Land of the Dead (don't worry; it's not a scary place) and solves some family mysteries. It's a heartwarming film that explores family legacies and Mexican culture, with visuals sure to amaze your little ones.
Photo by Pixar
Beauty and the Beast (1991)
You simply can't have a list of the best Disney movies without mentioning Beauty and the Beast. It's the first animated movie to be nominated for Best Picture at the Oscars, and rightfully so.
The film explores the story of a kindhearted, smart, and beautiful young woman who met a prideful prince who was cursed with the appearance of a monstrous creature. It's a comforting tale about true love and not judging people based on appearances.
Finding Nemo (2003)
For Marlin, a good-natured clownfish, his son Nemo is his life. However, Nemo can be stubborn and wants independence from his doting father. When Nemo disobeys Marlin, things get stressful as a fish collector takes him away.
This fantastic movie touches on the lengths a parent would go to for their child. It's full of action, adventure, and comedy as Marlin travels the seas to find his son.
Tangled (2010)
You've heard of Rapunzel, right? She's a princess trapped in a high tower by her evil stepmother, but she can let people in with her long locks of golden hair. So, what happens when she meets a troublemaking swashbuckler?
This bedazzling film has numerous enchanting songs and hilarious slapstick comedy, so it's a whole package. Prepare to be mesmerized by this fun retelling of a classic tale!
Pinocchio (1940)
Most Disney films start with a familiar tune: When You Wish Upon a Star. This song was featured in this 1940 film and is easily one of the most recognizable Disney songs.
Pinocchio stars a wooden puppet who longs to become a real boy, and the story is one that many people are familiar with. It's an iconic film that's definitely worth revisiting!
Photo by Walt Disney Studios Motion Pictures
Frozen (2013)
Who doesn't know the song "Let It Go?" This chilling tale about sisterhood and finding one's own strength can melt anyone's frozen heart. Its stunning visuals and catchy songs make it one of the best Disney movies you can watch with your family.
Zootopia (2016)
If your little ones love animals, they'll most likely love Zootopia! This lighthearted movie follows the adventures of a rabbit, Judy Hopps, who recently became a police officer but isn't taken seriously by her peers. It's an exciting movie that tackles discrimination in many forms, so there are life lessons to learn here.
Mulan (1998)
Mulan follows a girl who goes undercover as a boy to spare her sickly father from serving in the military. She also meets a fun-sized dragon, Mushu, and a couple of good friends as she trains to save China from invaders. This action-packed movie is a must-watch for sure!
Photo by Walt Disney Studios Motion Pictures
Frequently Asked Questions on Best Disney Movies to Watch with Your Family
What is the first Disney movie?
Disney's first animated short film was Steamboat Willie (1928), a black-and-white movie featuring the iconic Mickey Mouse. However, the studio showed its first full-length film in 1937 with Snow White and the Seven Dwarfs. The movie is shown in technicolor.
What is Disney's highest-grossing movie?
Earning a worldwide gross of $1,663,943,394, Disney's highest-grossing movie is The Lion King (2019). This is followed by Frozen II (2019) and Frozen (2013) at $1,450,026,933 and $1,290,000,000, respectively.
How many Disney princesses are there?
As of 2022, there are 12 official princesses from Walt Disney Pictures. These are Aurora, Ariel, Cinderella, Snow White, Belle, Pocahontas, Jasmine, Tiana, Mulan, Merida, Rapunzel, and Moana.
Are Disney movies good for kids?
Not only are Disney movies fun to watch, but they also teach valuable lessons to kids. Moreover, they help children communicate their thoughts and feelings on challenging issues. These films may benefit young minds as long as their parents and guardians help provide proper guidance and moderation.