Babies are curious about everything that is around them. What's even more making them curious is when they happen to see people and things inside a television! Cartoons are made for children, which affects them as they grow old.
Since there are also negative factors when watching cartoons, babies should be given limited time when watching one. To fully help them start learning, they must also be given the best educational cartoons they will enjoy.
Cartoons containing different songs, nursery rhymes, shapes, animals, and so on are fascinating on screen. They are made for fun and intended for babies to learn the basics—and make sure that they stick!
Best Educational Cartoons for Babies
Given that they are limited in screen time, it is best to choose the most deserving educational cartoons. Here is the list of educational cartoons that will make their time worthwhile:
Sesame Street
This all-time favorite cartoon will help your baby be aware of numbers and ABCs while enjoying the songs. There are also great lessons to look out for, especially with proper traits and characteristics that will guide them as they grow. Plus, babies will always look forward to loveable and fun characters!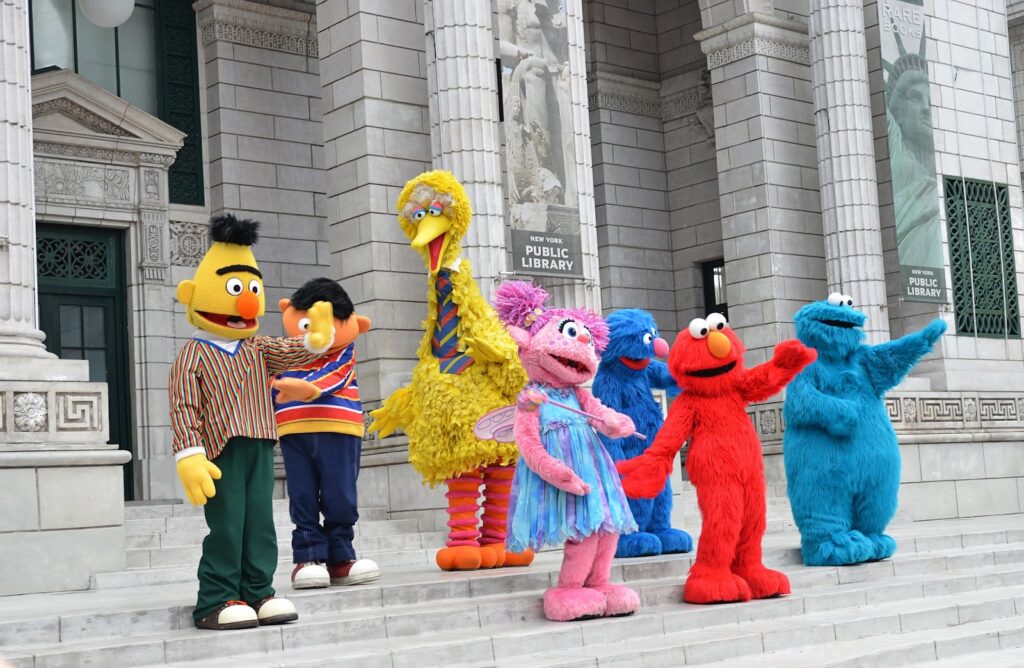 Word World
This is a creative and colorful cartoon show where your baby will be aware of objects and their respective names! The objects are made of letters that form the word they are called. They will also enjoy the fun animal characters and the different skills that they love to show.
Courtesy of Moody Studios
Super Why
This show will amaze your baby while enjoying learning through the different activities found in this show. Babies will start to know and identify the alphabet and hear different stories found in the storybooks. They will also be more curious as they go along with the adventure made by the cute characters!
Courtesy of Pinterest
Alphablocks
A great entertaining show is Alphablocks, where babies will be familiar with each alphabet letter found on blocks! Each letter also includes different colors that they will love. The blocks, which are the main characters, are also storytelling as they play different learning games.
Courtesy of Blue Zoo
Mickey Mouse Clubhouse
Another timeless cartoon show is here, ready to serve your baby with endless counting and reading skills. Mickey and his friends also love to go on adventures that involve different shapes and patterns that babies will love to learn! Also, get ready for endless singing that your baby will go along with.
Little Einsteins
Introduce arts and nature to your baby with this cartoon series. They will love seeing and exploring different cultures as early as now. Babies will also enjoy listening to classic songs and learning about different colors and shapes worldwide.
Courtesy of Animation Fandom
Sid the Science Kid
Let your baby love science while they are young, so keep their curiosity at its peak! They can observe different objects they see in each episode. They will also enjoy observing people and events in real life that may be similar to the ones they have watched!
Courtesy of Jim Henson's Family Hub
Little Baby Bum
This is an educational cartoon show where babies will hear different nursery rhymes. They can also hear other interesting songs about growing taller or what babies want to be when they grow up. Babies will also be aware of different shapes, colors, and the ABCs in this show.
Courtesy of Trakt
Octonauts
An underwater adventure awaits your baby so grab this chance for them to watch this fantastic show. They will be introduced to the adorable sea animals by giving facts and singing lively songs. This is also an excellent chance for them to be curious about water and what lies beneath it!
Courtesy of Bilingual Kidspot
Dinosaur Train
Another all-out adventure is here, where babies will be thrilled to see different kinds of dinosaurs and trains! They can explore the animals that existed before while enjoying the ride on the train. Babies will love to travel as they learn more while getting curious about the world and the creatures before.
Courtesy of The Dubbing Database
Four Tips for Choosing the Best Cartoon for Babies
Parents always want the best for their babies. They will go through everything just to ensure the safety and learning benefits their child can get from these interesting cartoon shows. With these, here are a few tips to help you choose the suitable cartoon for babies:
Search for educational cartoons
Thoroughly research all the possible educational cartoons you could give to your baby. Check also the feedback of other parents from the reviewed cartoon show. List down all the gathered appropriate shows.
Watch the program first
Make sure the show is aligned with your family's morals and values. Ensure also that the show gives the educational concept that will help your baby in the future. Take note of other negative details, such as conflict or violence, that might be included in the show.
Check the commercials
Even some commercials show inappropriate scenes, so check them before you let your baby watch. There are some actions or gestures that you would not want your baby to see, so it is better to pay attention to them closely.
Watch with your baby
Observing your baby's reaction to the show will help you know what topics they enjoy. You can also point out things and repeat the words to them while watching. This will also help them ensure the educational benefits they deserve.
Frequently Asked Questions on Best cartoon for babies
Which cartoons are best for babies?
Sesame Street and Mickey Mouse clubhouse! These two are the best and classic cartoon shows for babies because of the timeless fun it brings. These are also helpful for learning since they teach the alphabet and bring out different counting songs. They also involve the loveable characters that babies love to see!
Which cartoon is best for learning?
Little Baby Bum has different nursery rhymes that babies will love to hear repeatedly. There are also different children's songs to enjoy. Songs about growing up taller and what they want to be when they grow up are also educational because it shows the realities of life. This show also portrays different shapes and colors to help babies be aware of them.
What is the best educational show for a 1-year-old?
Alphablocks are great because the show consists of different alphabet letters found in each block. Each block contains a letter and a color that will make your child learn both. They will also be familiar with words because they can start mixing letters.
What is the most child-friendly cartoon?
The Octonauts consist of cute animal characters, and they lead the underworld adventure. This show is great for kids because it provides songs and facts about sea creatures. They will learn more about the sea and how to care for it as they grow up. They will also be more curious about the underworld and want to know more about this in the future.
What can cartoons teach us?
Cartoons will help the children become aware of the different colors, shapes, and sounds. Cartoons are made creatively, and all of its episodes are designed for children. Cartoons also have educational learning methods that can start from having different nursery rhymes up to teaching the ABCs slowly. They also teach children life lessons about family and friendship.
Do cartoons help children learn?
Yes, because cartoons help spread the awareness of ideas and knowledge for children. The information is easy to retain and remember because it can be seen and heard easily by the children. Cartoons are also made attractive enough for children so they will love to watch and learn the educational concept it gives.
How can cartoons be helpful in a child's development?
The audio-visual effects can give a good absorption for children as they watch these educational cartoons. These educational cartoons also teach different concepts directly, and examples of these are shapes, colors, letters, and so on. They can also develop more by listening attentively to the educational songs and music it gives. This is an excellent way to help them to retain the songs in their mind.
Why are educational cartoons important?
These are important because children can learn different concepts with just one educational cartoon. Educational cartoons are creative enough to combine all the teaching methods for numbers and the alphabet. They also use nursery rhymes and children's songs to let the kids learn through singing quickly. Cartoons also portray life lessons and motivate kids with their good characteristics.
What do cartoons teach children?
They teach children about the alphabet and counting concepts. They also teach children how to sing and dance while learning songs. They will also be introduced to stories they enjoy hearing and imagining. Children will also be aware of science, arts, and culture worldwide. They can explore and be more curious about cartoons as they grow up.
What kind of teaching tool is cartoon?
It is both an audio and visual teaching tool that kids will love to hear and watch. They are colorful and consist of child-friendly scenes and actions. Cartoons have different adorable characters that every kid will love as they grow up. Having these loveable characters will also make them more inspired to learn while watching the show.
Why do babies love cartoons?
Cartoons have different bright colors that are attractive and pleasing to the eyes. The characters also have child-friendly voices that kids love to hear all the time. All the scenes and views are creatively done to get the attention of the kids throughout the show. Lastly, educational cartoons make every kid pursue learning more and be curious about the world.